SHOCK POLL: After Syria Strike, Trump Approval Makes WILD Swing – WHOA!
In the days since President Trump's Inauguration, so much has happened, it's hard to keep track of all of it.
Trump has signed significant executive orders to crack down on illegal immigration, defund Obamacare, and take drastic steps to reduce the size of the federal government.
More and more we are hearing about companies bringing jobs back to the U.S. with more on the way.
And just recently Neil Gorsuch was confirmed as our next Supreme Court Justice, to carry on the legacy of celebrated Justice Antonin Scalia.
This is only the beginning. Critics are shocked to see President Trump working to fulfill his many campaign promises so quickly. Unlike career politicians, Trump ran for office because he actually cares about the American people. He did not do it for fame, power, or money.
Yet already there have been a few challenges to his leadership. Democrats continue to resist his policies with each step (though they have little power to stop him).
Attempts to curtailing the entry of people from terrorist-backed countries has been thwarted by liberal judges. An early Obamacare replacement bill failed. And democrats dragged out the confirmation of many of Trump's cabinet pick.
Most recently, Trump made surprisingly reversal when he ordered missile strikes against a Syrian airbase in response to a chemical weapons attack. While what Assad did to his people was egregious, many Americans are wary of U.S. forces engaging in another lengthy conflict in the Middle East.
So it comes as no surprise that recent polls show a change
From Rasmussen Reports:
The Rasmussen Reports daily Presidential Tracking Poll for Wednesday shows that 47% of Likely U.S. Voters approve of President Trump's job performance. Fifty-three percent (53%) disapprove.
The latest figures include 29% who Strongly Approve of the way Trump is performing and 43% who Strongly Disapprove. This gives him a Presidential Approval Index rating of -14. (see trends).
Most voters support President Trump's missile strike on Syria but feel further action against the Syrian government should come from the United Nations and not the United States alone.  
Russia, an ally of the Syrian regime, denounced last week's U.S. air strike on the Syrian airbase. President Trump in a recent interview criticized Russian President Vladimir Putin's support of Syrian President Bashar al-Assad, saying Russia is "backing a person that's truly an evil person."
The United States dispatched Naval warships toward North Korea this week in response to growing tensions surrounding its stepped up missile and nuclear program. Last month, 37% of U.S. voters said the United States should use military force to prevent North Korea's further development of nuclear weapons, but nearly as many (35%) opposed such action.
Tensions around the globe make Americans understandably nervous. It's very likely those upset over the Syrian strike are more concerned with issues at home and want the President to continue to focus on such things as jobs, immigration, and national security.
We should also keep in mind that this daily poll is just a snapshot of current feelings by a segment of voters. From day to day, month to month, attitudes will change, based on what is currently happening.
Right now many people are understandably concerned over Trump's actions in Syrian. But time will tell if U.S. involvement in the region is necessary.
But are these polls totally accurate? Will they continue to look grim for Trump? Perhaps.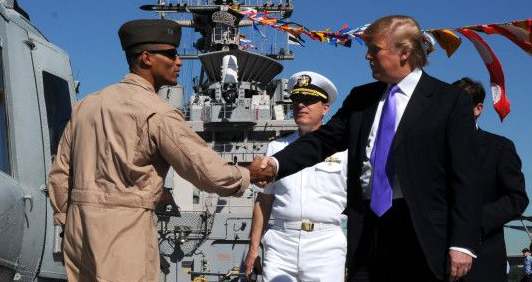 Do you support Trump's action against Syria?
Yesterday Assad launched chemical weapons on Syrian rebels and civilians causing massive damage and inhumane suffering on his own people.
As a response, President Trump launched missiles at the Syrian military base who launched the attack. There were a total of ZERO unintended casualties as a result of the attack.
Tonight I ordered a targeted, military strike on the airfield in Syria from where the chemical attack was launched." -President Donald Trump
Footage of U.S. Tomahawk missile launch into Syria – 4/6/2017
Vote below and let us know your thoughts…